Come in for a hospital tour! We've had many new exciting changes at Dogwood Pet Hospital over the last couple of years including new floors, cabinetry, counters, and a new palate of soothing neutrals.
Reception area:
Hi! I'm Casper, and this is my canine buddy, Norman. We are two of the many furry faces to greet you at Dogwood! The reception staff is here to make you feel at home, and to make sure your visit goes smoothly. Come in for a hospital tour. We would be happy to show you around.
Exam Rooms:
We have three exam rooms located just off the reception area. We want to ensure that when your pet arrives, we can get them into a room as quickly as possible and without exposing them to other animals in the hospital. This keeps your pet as calm as possible.

Kennel Area:
We have several indoor runs for safe keeping of pets who really don't need to be in the recovery room but want to have a safe place to stay while they are waiting for other services. This is also our doggie hotel. I get to check it out for stray food when the dogs are walked outside three times daily.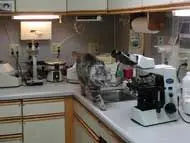 Laboratory & Pharmacy:
We are especially proud of our complete laboratory where we can do many diagnostic tests including blood tests, electrocardiograms, urinalyses, and parasite exams. Our pharmacy has a full supply of current Western medicines (antibiotics, cortisones, pain medications, hormones, etc.), Western and Chinese herbs, nutraceuticals, and glandular products.
Treatment Room:
This is the heart of our medical area. After examining your pet, we will often move them into the treatment room for further care. This is where we give injections, fluids under the skin, place IV catheters, clean and bandage wounds, prepare for surgery, and perform dental procedures.

Surgery:
If your pet requires surgical care, our up-to-date surgery room offers the equipment and services needed for every procedure we offer. We equip our suite and maintain it with the same care as in human hospitals. Behind me, you can see some of our anesthetic equipment and many patient monitors. I sure love this heating pad we use to keep our surgery patients warm!
Recovery Ward:
After treatment, we move pets into our recovery area where they can get the peace and quiet they need, while receiving constant monitoring. The pets here are surgery patients and non-contagious sick pets. Someone is always watching us in here!
X-Ray:
We can take the same x-ray images as any people doctor, including barium studies (yuck!) and other advanced imaging.